---
Maybe no paint job yet, Mike, BUT: what a ride!
68 XR7 J code madras blue/aqua
Proud Member of the
Curbsters
rides are at
https://site
doesn't exist anymore
I used to eat a lot of natural foods until I learned that most people die of natural causes.
---
Registered Member
Posts: 3565
Joined: 24 Dec 2010, 06:52
Location: Brick, NJ
Tell me why?

No.
Isabel, the realization of a seven year long dream:
Canted--Texan on the351cforum: "One of my most impressive attributes is that.......a lot of people don't like me.....or the horse I rode in on"
---
This reminds me of a similar poll I wanted to create but can't because I access the forum using Tapatalk.

My question was, which do you enjoy the most?

1) driving your Cougar
2) working on your Cougar
3) looking at your Cougar or photos of it

And then for split decisions,

4) tied, both 1+2
5) tied, both 2+3
6) tied, both 1+3
7) three way tie


Personally I think I'm at #7 at this point.
'68 XR-7 J-Code C4, San Jose, Edelbrock 1406, PS, Front PDB, 8" rear 3.0, PS is leaky and sloppy, invisible fan shroud
'79 Bronco XLT 351m, C6, Edelbrock Performer 400 intake, Holley 6140, Howards cam, 4" suspension lift, 33x12.5x15 Duratracs, dana44 front and Ford 9" rear both 4.11 LSD, Warn hub locks, invisible fan shroud
'80 Suzuki GS750E 16V DOHC, looks about 6 months old
'13 Honda CR-V AWD
---
Hmmm.....I'd have to be a #4......I've enjoyed the "working" on it, but I LOVE firing it up and DRIVING, now!
T3
Yup, that guy, the hooligan.

How do you know someone is a pilot? Easy! They'll tell you!

Somewhere out there is a tree, tirelessly producing oxygen so you can breathe. I think you owe it an apology.
---
Registered Member
Posts: 1196
Joined: 04 Oct 2011, 14:20
Location: Chesterland, Ohio
#4...tied for 1 and 2
Mark
Buckeye Boys Rod & Custom - East
Anyone can restore a classic... it takes a real man to cut one up.
---
#5...tied for 2 and 3 since the car is a shell and I can't drive it right now. John
1968 XR7 F-Code (302-2V), C4, Polar White (M), Dark Red Leather (6D), 23U, 46, 5, W, PS, A/C, CCOA #8579, MACC, Under Restoration
---
#5 only because I can't drive any of them yet.
1974 Dodge Dart - daily driver
1963 Thunderbird Z code - raven black/red
1968 XR7 F code - diamond blue/blue
1968 XR7 J code - black/red
1968 J code - madras blue/aqua
1968 XR7 X code - lime frost/dark ivy gold
1968 GT-E XR7 W code prototype no. 500033 - cardinal red/black
---
Registered Member
Posts: 4360
Joined: 25 Dec 2010, 20:35
Location: Sumter, South Carolina
I would say my reason is number 3 first and foremost. My father built a Lincoln Mercury dealership and my Grandfather bought his 1967 standard (my first car) there. My second car was a 68 standard. Between my five older brothers and myself our first car was our grandfathers 67. It was handed down to each of us as our first car. By the time I got my license an started driving it was in rough shape. The memories are beautiful to this day. I spoke with my brother today (630 miles away) and some part of our conversation always includes Cougar talk.
Why? That's why #3 is for me.
Steven
Oh! My kids think the Cougar is cool.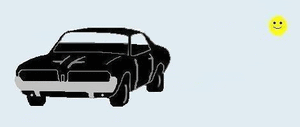 Our Cougars

1967 Standard
Dan Gurney Special
6.5 Litre, Black / Black, AC Whisperaire, Am/FM, Sports Console,
Front and Rear Bumper Guards, Clock

1968 XR7-G
302 4V, Lime Frost / Black Leather, AM/FM, Black Vinyl, Tilt-A-Way
Heavy Duty Suspension, Power Disc Brakes, Rader Wheels
1968 XR7-G Hertz
390 4V, Black Cherry/ Dark Red Leather, Black Vinyl, Sunroof, Tilt-A-Way,
Cruise, Rear Defrost, AC Whisperaire
1968 Convertible Conversion "Top Cat"
Standard, 302 4V, XR7G Console, XR7G Front Valance, XR7S Taillight Bars
---
Registered Member
Posts: 27
Joined: 11 Mar 2012, 16:56
I picked 3 Sentimental reasons because my father was the original owner. He special ordered it brand new. It's not an XR7 as he hated the fake wood grain dash and its not a big block car because he fell in love with Ford small blocks in previous cars he owned. I almost picked 2 Just like them. 67-68 Cougars are one of if not the best looking cars of all time IMO though I would take any 67-73 Cougar in a heartbeat.

Bill
Last edited by
wonderwrench
on 12 Mar 2012, 13:44, edited 1 time in total.
1967 standard, A code, C4, AC, PS, Power disc brakes
---
Started with just like them. then turned into self gratification. then sentimental. and soon trophies!
67 xr7 289 c4 trans
---