Buy it to display in the backyard.
1968 Standard Dan Gurney Special Convertible Conversion
---
KTL could fix it
-Andrew Chenovick
Photo/Video guy for
WEST COAST CLASSIC COUGAR, INC.
Side Gig:
FLYING A PHOTOGRAPHY
RIDES:
-1968 Mercury Cougar: original family owned, Polar White, 289-2V, auto, AC / "Snowball"
view project thread
-1973 Opel Manta: 1.9L, 5-speed (restored)
-1991 Mazda Miata: fun driver
-1992 Volvo 240 wagon: classy hauling machine
---
---
ECI Bob this one has your name all over it!
Bill Basore, Editor / Publisher
Legendary Cougar Magazine
Currently in the Cat House
'67 XR7 GT 390 4 speed, AC, AM FM, Lime Frost Green
'68 XR7-G 428CJ C6, Tilt-Away, AM, Black Cherry
'68 XR7-G 390 4 speed, Sunroof, Cardinal Red
'68 XR7 GT-E 427 C6 AM Cardinal Red
'68 XR7 resto mod 351W, soon to be AOD, Black Cherry
---
---
Registered Member
Posts: 542
Joined: 26 Feb 2015, 10:47
Location: WI
So the auction link doesn't bring up anything any longer. Says page not available. Thought the auction wasn't suppose to start until today? Wonder if someone became a "proud" owner? Just curious....
David Siedschlag
#16306 1967 Lime Frost S-code, Ivy gold interior built 11-1-66
3.25 Limited slip, 4-speed. Courtesy lights, sports console, whisper-aire, AM-8track, deluxe belts.
1989 Toyota truck, woodgas powered
22re 4x4
---
Registered Member
Posts: 4365
Joined: 25 Dec 2010, 20:35
Location: Sumter, South Carolina
Spacoli can fix it.
Steven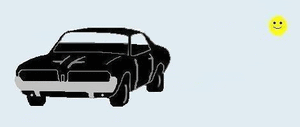 Our Cougars

1967 Standard
Dan Gurney Special
6.5 Litre, Black / Black, AC Whisperaire, Am/FM, Sports Console,
Front and Rear Bumper Guards, Clock

1968 XR7-G
302 4V, Lime Frost / Black Leather, AM/FM, Black Vinyl, Tilt-A-Way
Heavy Duty Suspension, Power Disc Brakes, Rader Wheels
1968 XR7-G Hertz
390 4V, Black Cherry/ Dark Red Leather, Black Vinyl, Sunroof, Tilt-A-Way,
Cruise, Rear Defrost, AC Whisperaire
1968 Convertible Conversion "Top Cat"
Standard, 302 4V, XR7G Console, XR7G Front Valance, XR7S Taillight Bars
---
Registered Member
Posts: 542
Joined: 26 Feb 2015, 10:47
Location: WI
So I think there are about three separate threads now on this one topic. Think I read in one of them that this sold for 100 bucks?
Did Spacoli buy it?
David Siedschlag
#16306 1967 Lime Frost S-code, Ivy gold interior built 11-1-66
3.25 Limited slip, 4-speed. Courtesy lights, sports console, whisper-aire, AM-8track, deluxe belts.
1989 Toyota truck, woodgas powered
22re 4x4
---